This 222 page book coordinates the rest of the PhonicsTutor Curriculum.
Unit Introductions
Screen Shots of all Word Lists with Additional Information in the Sidebars
Phonics Resource Section
The resource section in this manual summarizes several years of original research by the authors. The insight into English Orthography is presented such that it can be easily taught to all types of students.
Spelling Rules
Global Rules
Five Reasons for Silent Final E
Consonants
Vowels
Teaching Spelling & Pronunciation Rules to a Class
Teaching Spelling & Pronunciation Rules to Individual Students
Sample Phonics Rules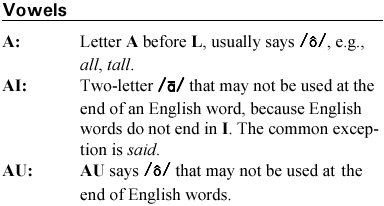 Flashcards
Making Flashcards
Using Flashcards
Phonemes
Phonograms
Syllabication
General Observations
Goals of Syllabication
Tasks that Require Syllabication
Definition of Syllable and Related Terms
Parts of a Syllable — Table
Syllable Types by Spelling Patterns
Syllable Rules
Rules for Adding Suffixes
Introducing Syllabication to Students
Communication of Syllable Division
Teaching Syllabication to Students
Syllable Chart of Frequent Words
Prefixes
Suffixes

Bibliography
Dr. David Hickerson and Janelle Hickerson have taken the confusing, jumbled, chaotic world of phonics instruction and produced a magnificent, clutter-free, totally comprehensive Teacher's Manual. While quickly teaching phonics in a format that cements the information into long-term memory, it also provides a complete phonics reference. This 222-page manual is the backbone coordinating all PhonicsTutor materials. Boasting an extremely organized format, phonics information is found in a heartbeat. There is no second-guessing as to where to find needed information. With this resource, the teacher will tailor a lesson instantly to the student's needs. Although designed to be used with the PhonicsTutor materials (and this is definitely preferable), this Teacher's Manual quite easily stands alone as a guide and reference for teaching all phonics instruction. My six-year-old is now reading on a solid third grade level after three months of lessons for only 20-30 minutes a day using the PhonicsTutor program (including the CD-ROM and Student Book). However, I heartily recommend this manual alone for families who need to spend less on phonics instruction. Just add a writing tablet and pencil and you're set to go! The computer help available separately on the CD is worth a lot, however, and will give you, the teacher, a completely patient, articulate helper all along the way.